Fellows' Activity - Regional Networking Meeting
African Region
WMU Sasakawa Fellows Reunion in Tunisia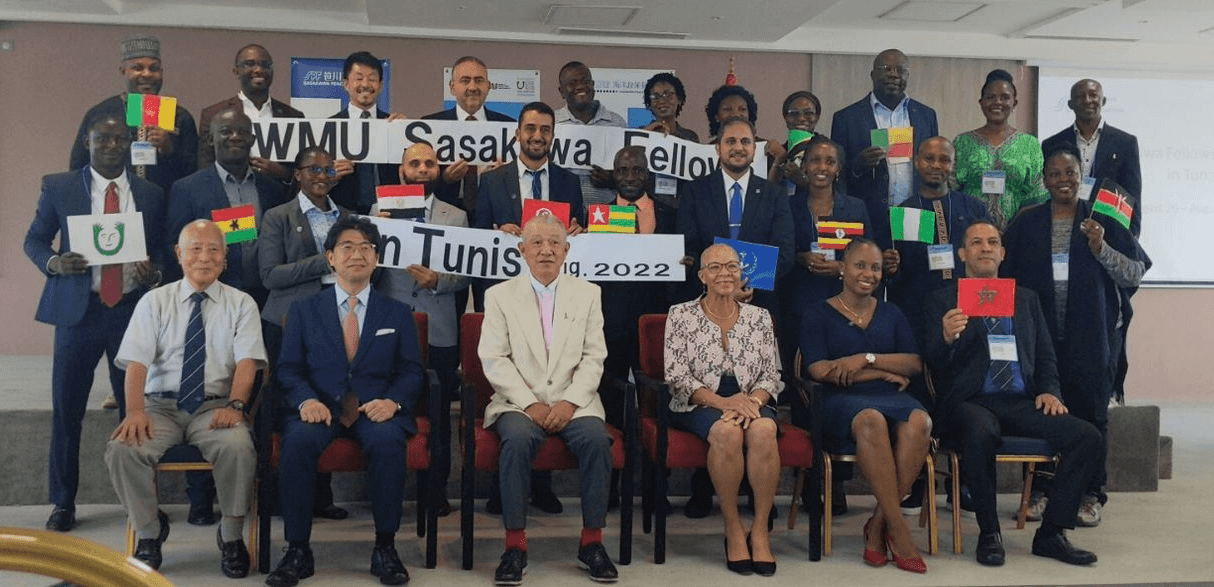 A regional meeting of 24 Sasakawa Fellows, hailing from 12 African countries, was held in Tunis, Tunisia on August 26-29, 2022. This was the 5th regional meeting, and the first in four years since the WMU Sasakawa Fellows' Network Meeting held in London in January 2018.
     The event was planned in a hurry to coincide with the holding of the Tokyo International Conference on African Development (TICAD) - which, after having been postponed repeatedly because of the COVID-19 pandemic, had just been officially scheduled to take place in summer.
     As with previous regional meetings, the Secretariat created a program draft, the main purpose of which was to enhance and expand the Sasakawa Fellows Network, and all participants prepared materials in advance despite the short time allotted before the regional meeting took place. In the pages onwards, you will find a summary of the incredible occasion that took place.
 
Preparatory Meeting (August 26, Afternoon)

     Many, many Fellows faced difficulties obtaining a visa in the short amount of time available, so unfortunately, not all invitees were able to attend. On this day, the WMU President, Dr. Cleopatra Doumbia-Henry, was in attendance to see the participants introduce themselves. Many of the Fellows had never met each other before this! Participants used PowerPoint presentations in their self-introductions, and everyone could see how the Fellows have each been leading fulfilling lives since their respective graduations.
     Next, there was a discussion regarding the structure of the sessions and working groups scheduled to begin the following day, as well as who to elect as chairs for each session. Ultimately, Mr. Nabil ANWARI was elected as chair for the overall event, with Mr. Houcem Eddine CHERNI and Ms. Maureen Kanini KITHEKA as vice-chairs. Ms. Stella Joshua KATONDO was selected as the chair for Session 3 to discuss ways to strengthen and expand alumni networks. It was decided that the chairs for each of the working groups in Session 2, in which various maritime issues would be discussed, would be decided by the working group members themselves.
     At the end of the preparatory meeting, Capt. Yusuke Mori (2014), who was participating as a representative of the Japanese Sasakawa Fellows and as Deputy Executive Director of the International Association of Maritime University (IAMU), gave an overview of IAMU's important roles and activities.
     With that, the preparatory meeting was over. Everyone headed on to the evening welcome party where they were joined by Dr. Hide Sakaguchi (President of the Ocean Policy Research Institute, SPF) and his staff from TICAD. WMU graduates from Tunisia made special guest appearances, and all attendees enjoyed a friendly and fun reception which lasted until late at night.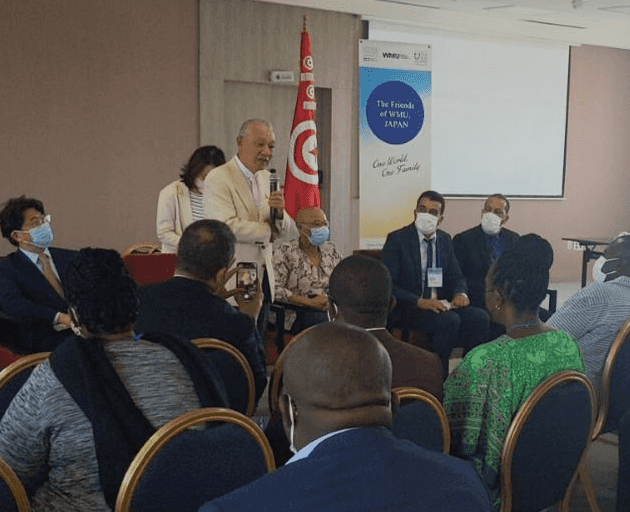 Day 1 (August 27)

  (1) Opening Ceremony
     After an opening address by Dr. Sakaguchi, a video message from Chairman Sasakawa was shown. This was followed by a congratulatory address by Dr. Doumbia-Henry, who celebrated the regional meeting's occurrence and spoke of the importance of alumni activities. Lastly, Ms. Thouraya Khelil of the OMMP (Office of Merchant Marine and Ports), co-organizers of the regional meeting, gave a warm welcoming address to the audience.
     Following the opening ceremony, Chairman Sasakawa - who was participating in TICAD - took time out of his packed schedule to make an appearance at the meeting. Overjoyed, the Sasakawa Fellows welcomed his visit by singing WMU's university song. Chairman Sasakawa nodded as they each told him about their current activities and responded warmly to their questions. This long-awaited meeting was concluded with group photos with Chairman Sasakawa, as well as several Sasakawa Fellows who had arrived in the nick of time after overcoming flight and visa issues.

  (2) Session 1: Maritime Review of Each Country 
     Participants explained how their countries were doing regarding maritime affairs and current issues they were facing. Each presentation was followed by questions from the enthusiastic and curious Sasakawa Fellows. Their thirst for learning clearly didn't end with graduation!
 

Day 2 (August 28) 

   (1) Session 2: Working Group Discussions
     Participants were separated into working groups based on 4 different themes: (a) Maritime Transport and Port/Harbor Issues, (b) Maritime Safety and Environmental Protection, (c) Maritime/Ocean Education (including Human Capacity Development), and (d) Ocean Governance. They selected specific topics and fervently carried out discussions aimed at resolving future issues.
     Each working group spent some time before and after lunch to put together a summary based on what they had discussed, and finally, presented their conclusions to all the meeting participants that afternoon. As they took the floor, the presenters passionately exchanged questions and answers with members from the other working groups.

   (2) Session 3: Discussions on Alumni Networks in Africa
     Representatives talked about their country's alumni activities (or lack thereof) and an energetic and passionate discussion was held to create ideas for expanding the alumni network moving forward. Some common issues were brought up: the lack of alumni per country, the lack of responsive members and a means for reaching out to alumni, and the lack of alumni leaders who can take the initiative to organize events. The talks culminated in the solution: establishing a strongly bonded group once and for all at this very moment, leading to the Resolution.
 
Day 3 (August 29)

   (1) Port Visit (Morning)
     Thanks to the OMMP's generous support and meticulous preparations, the Fellows had the unique opportunity of boarding a large tugboat from the Port of La Goulette during the port visits. They landed to a cheerful reception at the Port of Radès, where they donned "uniforms." Afterwards, they received detailed tours of the Mediterranean Training Institute for Maritime Professions (IMFMM) and saw their simulators and other facilities firsthand.

   (2) Sightseeing (Afternoon)
     The Fellows enjoyed some leisure and shopping time in the blue-and-white resort area of Sidi Bou Said, which sits in the Mediterranean Sea. Their sightseeing adventure finished with a trip to the distant past – to the UNESCO World Heritage site of the Ancient Carthage ruins.

   (3) Farewell Reception
     For about an hour at the beginning, participants intensely discussed the meeting's resolution draft prepared by Mr. Nabil. The timing of the toast was slightly delayed because of this and there was regrettably less time for socializing. Even so, the party must go on. With music, dancing, laughter, and commemorative speeches, the reception broke up on a very heartwarming note.