Contributions from Experts
Digital Data in Today's World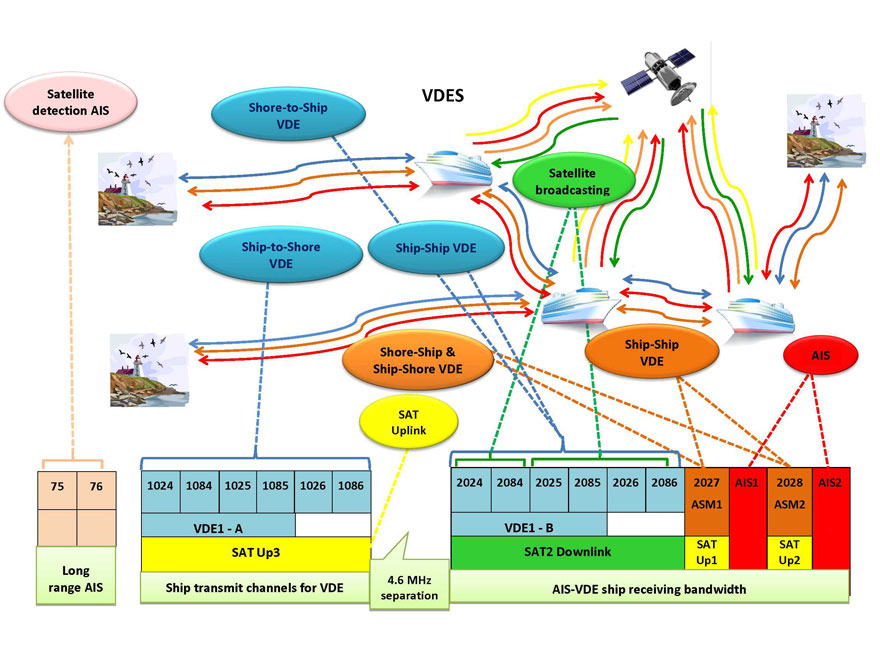 The ability to get information on demand, using digital data networks such as nextG, 3G and 4G, is now a normal part of life. We use digital data communications to transfer images of our holidays to our friends on social media, to identify the best route to take to the airport, pay bills and transfer funds through on-line banking platforms, and so much more. We truly live in a connected, digital world.
But how does this transfer to the maritime environment? With experience gained through developing and implementing AIS, and recognising the need for enhanced, digital communications networks to support e-Navigation and future developments in the Global Maritime Distress and Safety System (GMDSS), a small group of experts within IALA and ITU have been working to provide a viable technology to facilitate enhanced maritime communications – the VHF Data Exchange System (VDES).
It is impossible to look at the development of VDES without acknowledging the success of the Automatic Identification System (AIS) since it was introduced as a carriage requirement within the Safety of Life at Sea Convention (SOLAS). AIS transfers data in digital 'packets' over existing VHF (Very High Frequency) radio channels and, because it is so effective and useful, applications of AIS have continued to expand. As mariners and shore authorities, we are all pretty aware of the benefits, and drawbacks, of the technology. The increasing use of AIS is resulting in heavy loading of the VHF data link (VDL) – the radio frequencies that AIS uses to transfer information. Looking ahead to the expectations of increased digital data exchange in e-Navigation, as well as data exchange requirements in the modernization of GMDSS, an evolution in maritime communications is underway.
VDES is a mobile, digital data exchange capability over the VHF maritime mobile radio spectrum that could see digital data transferred pretty much anywhere, anytime. VDES will 'group' bands of the VHF spectrum together, which will enable more data to be transferred. Think of a single lane road - only a limited number of cars will be able to travel. The road has different speed limits as well. If you increase the number of lanes to two or four lanes, and change the speed limit, more cars can travel at the same time. Using software defined radios, VDES will take existing frequencies (single lanes) and group them together to enable more data to be transferred. VDES is also looking at changing the 'speed limit' for the data transfer, which means some data may be able to be transferred faster.
So, why should you be excited by the thought of digital data over a 'multi-lane highway' of VHF channels? Just imagine the opportunities of a stable, robust, machine to machine communications system which can be developed to be language independent! The experts have been doing just that, working with real-world scenarios to develop use cases for VDES that take into account the work on e-Navigation and GMDSS modernization. These operational use cases will assist in determining the technical requirements of VDES.
Use Cases for VDES
SAR Communications
Maritime Safety Information
Ship Reporting
Vessel Traffic Services
Charts and Publications
Route Exchange
Logistics
At the International Telecommunication Union (ITU) World Radio Conference (WRC-15) in November 2015, a significant amount of the maritime VHF spectrum was made available to support VDES for terrestrial applications. In the lead up to the ITU WRC-19 studies will focus on studies to support satellite applications, including a satellite communication downlink on the VDES frequencies. Providing the maritime input to ITU is critical to ensure a successful outcome. At IMO there is continuing work on e-Navigation and the modernization of GMDSS. Both of these require access to robust and effective communications capabilities. While no single communication technology will address all the requirements, VDES is seen as a key development.
Operational requirements and technical developments for VDES are being carried out within the IALA e-Navigation Committee, where input and expertise is welcomed.
Preparing for VDES
Learn about VDES developments
Provide input on VDES through ITU, IMO and IALA
Consider use of Software defined radios in equipment maintenance
VDES is an evolution in maritime communications. As a transport medium for digital data exchange, VDES has the ability to transform maritime communications as we know it. As we have already learned through the introduction of AIS, it will really be exciting to see what the future will hold once VDES is implemented!
*Note - Development of the VDES has been possible, in part, through the gracious sponsorship of the former Ocean Policy Research Foundation and the Japan Coast Guard. A number of practical studies of VDES use are being carried out, and these are being reported on the IALA website at:
https://e-navigation.net/
Jillian Carson-Jackson
Principal
JCJ Consulting